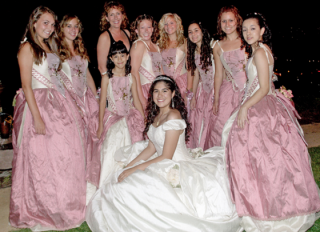 [/frame][frame align="none"]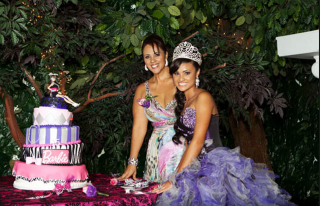 [/frame]
Quinceaneras & Sweet Sixteens Venue On The Shores Of Lake Jacqueline In Las Vegas!
Quinceañera (pronounced: [kin.se.aˈɲe.ɾa]; feminine form of "fifteen-year-old"), also called fiesta de quince años, fiesta de quinceañera, quince años or simply quince, is the celebration of a girl's fifteenth birthday in parts of Latin America and elsewhere in communities of people from Latin America. This birthday is celebrated differently from any other as it marks the transition from childhood to young womanhood.  The celebration, however, varies significantly across countries, with celebrations in some countries taking on, for example, more religious overtones than in others.
"May God bless you with Happiness and Joy Always"
You have dreamed of this day for your daughter when you first laid eyes on her. Our event staff will help you every step of the way to make this day as wonderful as she is. Quinceaneras are a challenge to plan, let us deal with the stress of planning your special event so you can sit back and relax and put your focus elsewhere.
You can meet personally with Executive Chef Beni Velazquez to discuss your catering options and create "the perfect and memorable" experience for you and your guests. Choose from traditional to lavish food choices: We offer interactive appetizer stations, buffet and plated options and pasta and carving stations are available. We offer vegan, vegetarian and gluten free options as well. Our professional mixologists will create the perfect signature cocktails for your special event, or you can browse our extensive bar packages.
We offer a diverse range of live music, and our experienced professional DJ's will have you dancing the night away. Our on site flower shop, with it's talented floral designers can create any type of theme for your special event.
Contact Us For More Information