Chef Sonia El-Nawal Of Rooster Boy Cafe Once Again Supports A Great Local Organization…. This Time It is The Shade Tree!
There's more to Chef Sonia El-Nawal's Rooster Boy Cafe than breakfast and pastries. Chef Sonia has a uniquely diverse background filled with many beautiful recipes from different cuisines.  But the Las Vegas Community also knows Chef Sonia for her constant work in supporting numerous charities and causes, and she has a special passion when it comes to supporting important women's organizations, and supporting her fellow female chefs!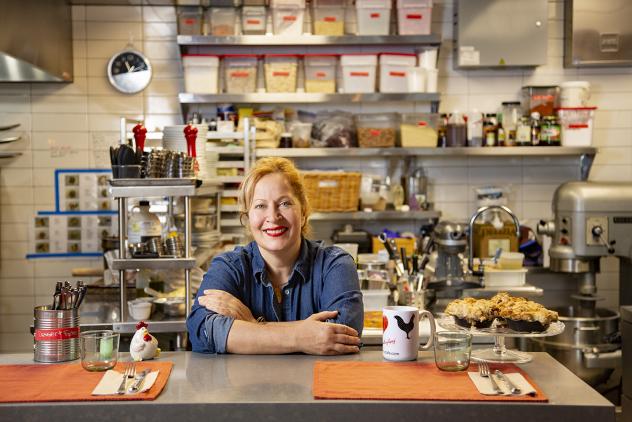 This particular event with Chef Sonia will help support one of the most important charitable organizations in our community, The Shade Tree!
The Shade Tree is the largest shelter of its kind in the state and is the only 24-hour accessible shelter designed specifically to meet the needs of women and their children in the region. The upper floors of our 38,000 square foot facility are residential areas with singles dorm rooms, family dorm rooms, classrooms, communal bathrooms, and an acute care medical clinic. The main floor has facilities to include a "Dayroom," fully equipped kitchen, laundry room, and Children's Activity Center. The full basement is used for storing donations and shelter supplies.
* Their Mission:
To provide safe shelter to abused and homeless women and women with children in crisis; as well as, offer life-changing services promoting stability, dignity, and self-reliance.
* Their Vision:
Self-reliance for every woman and child!
With your support and participation in this cooking class, you will learn some homey and filling favorites from a pre-recorded video provided by SecretBurger.com and Chef Sonia – take this cook-at-home class on your own time!


For this cooking kit, Chef Sonia will prepare a Lebanese favorite, chicken kabobs with a fattoush salad and jeweled rice.
$60 – COOKING KIT (feeds 2)
Fattoush Salad
– Romaine Lettuce, Tomato, Radish, Cucumber, Crispy Pita Bread, Scallion, Mint, Parsley, Lemon, and Olive Oil
Four (4) Yogurt-marinated Chicken Kabobs, sticks included!
Jeweled Rice
– A delicious combination of rice and noodles, almond slices, apricots, butter, and orange zest and juice
OPTIONAL ADD-ONS:
$12 – Hummus
– House-Made Pita
$10 – Arabic fritters
– Orange Blossom Syrup
* PICKUP: Thurs., Sept. 9, between 12 pm and 3 pm; Rooster Boy Cafe, 2620 Regatta Dr #113, Las Vegas, NV 89128
* VIDEO LESSON: Cook on your own time! A prep-list and recorded video will be supplied via email.