Debuting Restaurant Row, Dining Venues and Award-Winning Chefs
Lakeside Event Center was recently featured in the February 2019 Edition of Food & Beverage Magazine
Restaurant Row makes the news again here in Las Vegas as they continue to roll out dining venues, master chefs and great events, along with several other businesses that support the community.  Food & Beverage Magazine profiled all of the exciting things happening on "Restaurant Row" in their latest edition:
"The lakefront property known for its oasis-like lakefront weddings and dining options on the water offers a variety of delectable cuisines to satisfy all palates including, French, Spanish and American cuisine. Restaurant row is filled with award-winning venues such as Marche Bacchus, winner of Best French Restaurant and Best Wine Shop, Americana Las Vegas, awarded as one of the Top 10 Restaurants in Las Vegas, the Heart, and Soul of Chef Manny's Buena Vista Kitchen, the new Rooster Boy Cafe, and Vino Las Vegas Wine Bar & Bistro".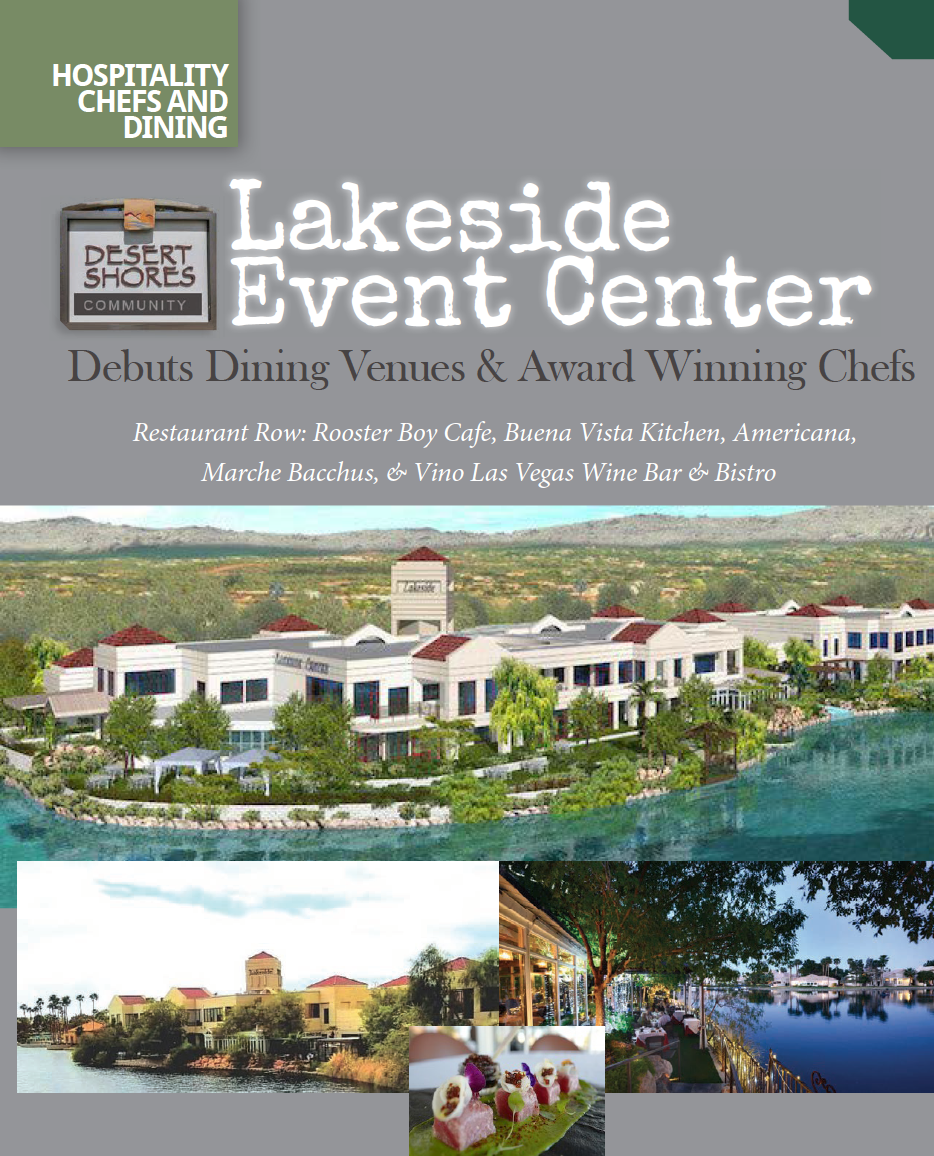 In addition to covering the restaurants and chefs on Restaurant Row, Food & Beverage Magazine goes on to discuss the other amenities and businesses located at Lakeside Event Center, including Lakeside Weddings & Events, Lakeside Business Suites, The Salon at Lakeside, Flowers at Lakeside, and The Spa at Lakeside, to name a few.
For virtually any social event you can find what you need at Lakeside Event Center.  If you are getting married you can choose between multiple lakeside venues for your ceremony, and enjoy on-site catering for your reception. As a business owner, there is a range of executive suite options to choose from based on your company's needs, complete with all of the services and amenities you need, and virtual office solutions for those who need that level of support.  And, you can have your hair and nails done from the best stylists and artists in town and enjoy a day at the spa following your dining experience.  Lakeside Event Center truly is your one-stop social event venue in Las Vegas.
To read the entire Food & Beverage article click right here:  FBMag-Feb2019
For more information on Lakeside Event Center:
Lakeside Event Center
2620 Regatta Drive, Suite 102
Las Vegas, Nevada 89128
(702) 553-2343
www.lakesideeventcenter.com